February 21st 2007

A new year is upon us and Vera is coming along nicely. All welding has been finished now - Tony has lots of scars to prove it. We are now going to concentrate on getting the engine sorted so that we can put her through an MOT - after that we will finsih off the wings, bonnet and tidy up the rest of her during the warmer months.
After a little bit of research it was decided that we would give the plastic push rods a try and once we had found a cheap supplier on ebay we were ready to start.
Pushrods and rockers refitted and tappets adjusted.
New Push rod tubes installed on offside.
Sump strainer removed.
New rocker cover gasket installed.
The heater exchangers have been fitted too. These were bought from Status VW and they seemed to be really good quality. After the fun we had with the heater channels themselves this was seemed like good news.
New heat exchanger fitted.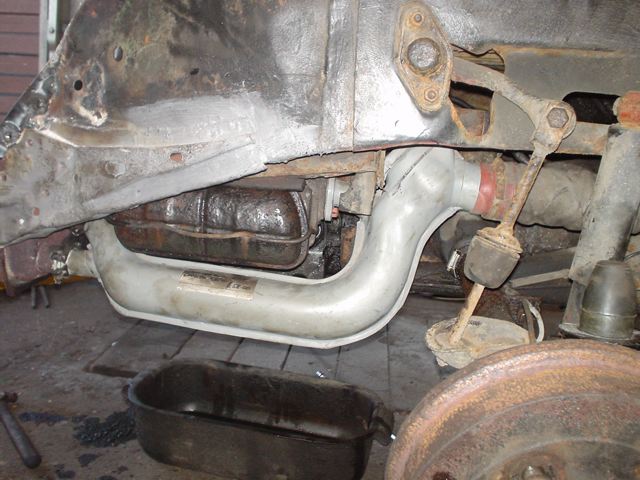 Other heat exchanger fitted.
In preparation for the MOT the brakes are being checked out and we have already found a few scary problems with pipes being in poor condition so a good check over is required.
New flexi brake pipe installed.
The panels needed filling and we have decided that we can live with the bonnet and wings for a few more months unitl it gets warmer and we can rub them down and spay them.
Rear quarter filled and ready for final finishing before painting
Another application of filler and then this front quarter will be ready for spraying too. Let's just hope that the new Euro regulations for spraying don't kick in just yet.